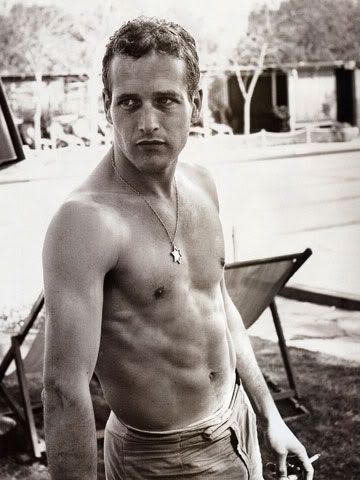 As part of what's been an unfortunate trend this year, actor, heartthrob, and salad dressing maker elite Paul Newman has died, another tremendous loss to the industry following the passings of Heath Ledger and Sydney Pollack (and Bernie Mac, and Isaac Hayes, and --).
As part of what's been an unfortunate trend in my life (of taking too long to catch up on certain older films), I've seen only a select few of Newman's classic movies. I own "Butch Cassidy and the Sundance Kid" and I love "The Sting" (yeah, the Newman-Redford titles). I also recently caught "Nobody's Fool," a charming 1994 drama for which he received his ninth of ten Oscar nominations (in addition to Honorary and humanitarian awards). And then there are "Road to Perdition" and "The Hudsucker Proxy," two fine films with fine performances.
But I've missed the classics. No "Hud." No "Hustler." No - gulp! - "Cool Hand Luke." The latter, given its reputation and prominence in pop culture, will be the first one I catch. Then the other two, then, say, "Cat on a Hot Tin Roof." That sounds like a nice line-up from an actor whose existence - and I don't need to have seen all his work to know this to be true - played a big part in shaping modern movies.